Meet Levin Mullaney '19
Starting with Legos and now working on rockets, this young alumni is enjoying his dream job!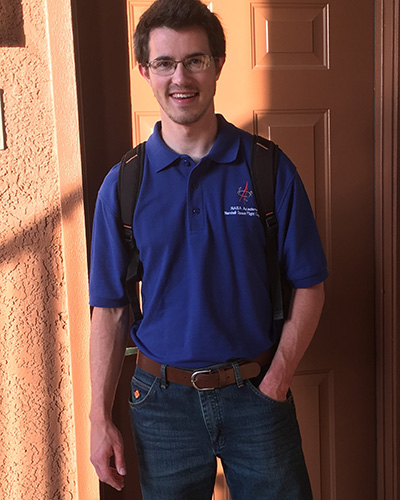 Levin Mullaney '19, like many, spent his childhood building with Legos and constructing roads and bridges in the dirt. Unlike many, Levin took his love of building much, much further. Levin's curiosity and passion for building as a child continued through school culminating in what he considers his dream job as a Guidance, Navigation, and Control Engineer at Raytheon Missiles & Defense.
Levin credits his middle school teacher Mr. Magnuson, who was head of the East Middle School Rocket Club, for introducing him to rocketry and aerospace. For all four years of high school, Levin competed in TARC (Team America Rocketry Challenge), a national rocketry competition. "The biggest problem for students from Montana was that we would receive the competition rules in October for the competition in the spring," said Levin. He smirked, "Rocket motors don't perform well in the cold."
His interest in robotics and rocketry brought him to Montana Tech in pursuit of a degree in electrical engineering. When asked if he preferred robotics over rocketry, Levin responded, "They are different but similar. Nowadays though, they are starting to merge together, which I think is pretty exciting. It presents a wealth of potential and many interesting problems."
While attending Montana Tech, Levin joined the Montana Tech NASA Robotic Team. "I served as the outreach coordinator for the team and worked on the construction and control system for the mining robot," said Levin. Levin also was the Founder and President of the Montana Tech Rocket Club. Levin stated, "Building a club from the ground up was challenging." He continued, "I recruited members and mentors; scheduled events and projects; obtained all funding; and completed preliminary and critical designs reviews." The dedication paid off when the team built a high-powered rocket and rover for a competition in Pocomoke City, Maryland.
By combining his interest in rocket science and his education in electrical engineering and control systems, Levin, at the young age of 24, can honestly say he has landed his dream job. After two summer internships with NASA, Levin found his home at Raytheon Missiles & Defense as a Guidance, Navigation, and Control Engineer.
"Here is something I often think about--math does not change based on your location. By this, I mean that the techniques used to solve a math problem do not change based on where you went to school or your location in the world. Math is math. Sometimes it may take you longer to learn something or to complete a task, but your willingness to reach your full potential or capability is completely up to you. I have always believed that the most prepared person will prevail, so just out-prepare everyone else."
Levin's advice to current and future Montana Tech students is don't be intimidated.
We are always on the look out for stories to share with our Oredigger community, if you know of a person or story to be featured please email spanisko@mtech.edu