Hardy Takes the Helm of College of Letters, Sciences & Professional Studies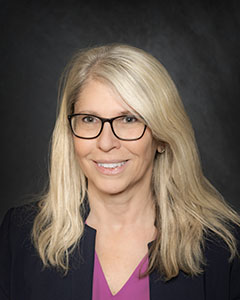 Michele Hardy Ph.D. has been named the dean of the College of Letters, Sciences & Professional Studies (CLSPS) at Montana Technological University. Hardy officially started her new role last week on July 1, 2021.
"We are excited that Dr. Hardy has decided to join us as the next dean of the College of Letters, Sciences, & Professional Studies. Her leadership experiences, as well as those as a faculty member at MSU and Washington State University, have prepared her well to support the faculty and staff in CLSPS," noted Steve Gammon, Vice Chancellor for Academic Affairs/Provost.
Dr. Hardy was raised and educated in Texas where she earned a Ph.D. at Texas A&M University and did her postdoctoral work at Baylor College of Medicine in Houston, with fellowships in molecular virology and pediatric gastroenterology.
She spent 17 years on the faculty at Montana State University building a successful research program on viruses that cause significant gastrointestinal disease in both children and adults. She has been active in undergraduate and graduate education, developing program curricula at both levels, and training students in the classroom and in the laboratory.
In 2013, Dr. Hardy was recruited to the Washington State University College of Veterinary Medicine as Chair of Veterinary Microbiology and Pathology.
She returned to MSU as Director of Research for the American Indian/Alaska Native Clinical and Translational Research Program and served as Assistant Dean for Research Development in the College of Agriculture. She also served as the MSU Director of the Montana University System Institute for Interprofessional Education and Collaborative Practice. Dr. Hardy worked closely with the Vice President for Research, Economic Development, and Graduate Education, focusing on faculty professional development and research development at the university level.
As dean, Hardy will oversee a diverse number of programs which include biological sciences, business, chemistry, geochemistry, interdisciplinary arts and sciences, mathematical sciences, and nursing.
"I am so excited to be joining CLSPS and Montana Tech," added Hardy. "I spent many years at Montana State University and always have admired the STEM focus and mission of Montana Technological University from a distance. After even just a short time here, I am convinced of the impact that CLSPS and the university have in providing a quality, hands-on, highly interactive educational experience that positions our students for successful careers."
Hardy embodies the Montana True spirit and loves the outdoors, enjoying spending time in the mountains hiking and backpacking, especially with her dogs in tow.
Hardy shared, "I have done quite a bit of rock and ice climbing in the west and abroad, experiences that I will always value. I also am content to just take a stroll near home in the early morning or evening, enjoying the fresh air."
On relocating to Butte Hardy noted, "I have quite a few friends who are from Butte, have lived in Butte, or know someone who has lived here. Without exception, they first and foremost speak to the strength of community. Every place I've been in Butte and every person I've met so far confirm this sentiment is true"
---
We hope you are enjoying Montana Technological University's Connections. If you have an idea for a story to highlight or know of a person to feature, please contact spanisko@mtech.edu.