The Women Miners of Montana Tech
"Girls Graduate School of Mines" headlined the Butte Miner newspaper in all capital letters on July 10, 1904.
The news was a big deal for its time. 
In the first full graduating class from the Montana State School of Mines, Miss Clara Clark and Miss Isabel Little, as they're referred to, were the first two female graduates. Both received their education in mining engineering.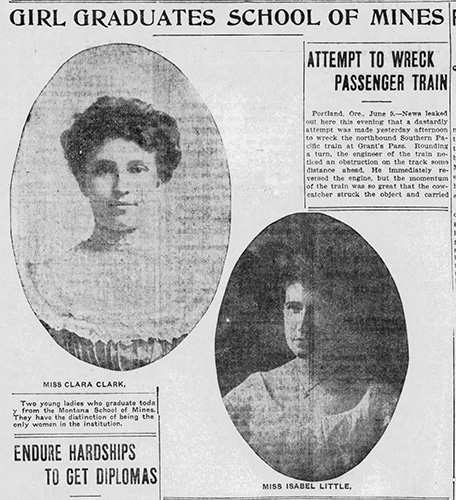 "For the past four years they have inhaled the fumes of the chemicals, stood over the redhot fires, and gone down the mines of Butte…with the young men of their class," the article recounts. It failed to mention that they did all of this while in dresses. 
Little and Clark are standouts for their generation. After they graduated, The School of Mines didn't have another female student enroll until the fall of 1911. 
The attitude of the time didn't necessarily encourage young women to pursue an education in mining. Even C.H. Clapp, the college's third president, stated in a letter to the father of a prospective female student that he did "not believe that under the present conditions, a woman would [find mining] a very satisfactory field." 
Nevertheless, Little and Clark both made names for themselves.
Isabel Little 
Little, who was described as "exceptionally bright" and always "at the top of her class," returned to her home town on the East Coast. Unfortunately, not much else is known about her. She married a fellow Tech graduate, Leon Clark Stevenson, from the class of 1905. Records found at the Butte Archive place Little and her husband in Sumpter, Ore. while he worked as a mining engineer. However, the death notices of both Little, who passed on November 21, 1936, and her husband place them in Virginia. They were survived by one daughter and one son.
Clara Clark 
More, though not much, is known about Clark. She was a Butte native (though not related to W.A. Clark—one of Butte's famous Copper Kings). Her father was in the mining industry, which most likely spurred her interest in the field. When the School of Mines opened, she was the first student registered. 
After graduation, Clark worked as a consulting engineer and was able to travel and speak at different events. Most notably, the Anaconda Standard reported that she addressed a crowded room at the 1905 American Mining Congress in El Paso. The article pointed out an empowering act of feminism Clark displayed. She was introduced as the only "woman mining engineer in the West." Not wanting to exclude the other women in the industry, she reminded the room about Little and then went on to say, "Another young woman is following the profession of a mining engineer who graduated from the school at Golden, Colo." 
Clark was a "hit with the veteran miners from all parts of the United States," during the mining convention. Newspapers lovingly referred to her as the "Queen of the Mountains" afterward. A Butte Miner article from 1907 highlights her success in the industry as she "in several instances, has found valuable ore in neighboring states where it was not known to exist." 
Clark married Herbert J. Reese of Livingston in 1907. It's assumed that Clark gave up most of her work after marriage. She had three daughters: Esther Elizabeth, Grace Marian, and Ruby Louise. Clark passed away in Los Angeles, Calif. in October of 1959.
Clark and Little are pioneers for many female students at Montana Tech. I was able to speak to one student who followed in their footsteps – recent mining engineering graduate McKenzee O'Neill '18.
McKenzee O'Neill
O'Neill and I decided to chat over Zoom. When her camera turned on, I felt like I was seeing what O'Neill would later describe as "the Butte Museum." She donned a School of Mines hat and her bedroom wall displayed a copper piece of art that reads "Home" next to a silhouette of a headframe. 
"I'm sixth-generation Butte," O'Neill stated proudly. Both of her grandfathers worked for the Anaconda Company. Like Clark, O'Neill has mining in her blood.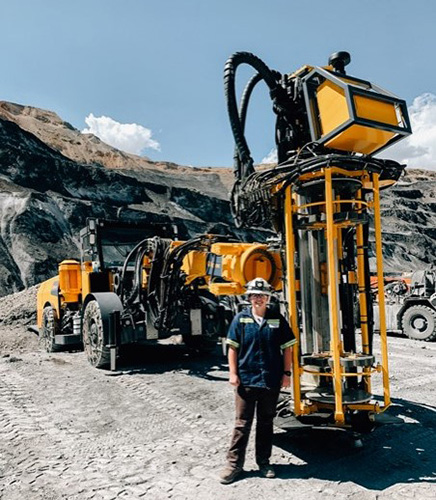 When O'Neill first came to Tech, she knew she wanted to be an engineer. When the engineering department held an open house, O'Neill decided to attend the mining, metallurgy, and electrical engineering presentations. 
But mining won her over.
"They showed us a video of blasting, and, of course, that gets everybody's attention. I'm like, 'How can I do that?'" she recounted with an excited energy. I could instantly feel her light up as she continued. "Then they took us to the mine. That's what sealed the deal for me. We went down there and I just felt," she paused. She took a breath and then her demeanor changed. She got serious. "It gave me energy, and I felt so comfortable." 
O'Neill is currently an underground mine engineer for Aura Minerals Inc.in Arizona. 
She understands being a female in the industry comes with its own set of challenges. But like Little and Clark, she's hasn't let that bother her.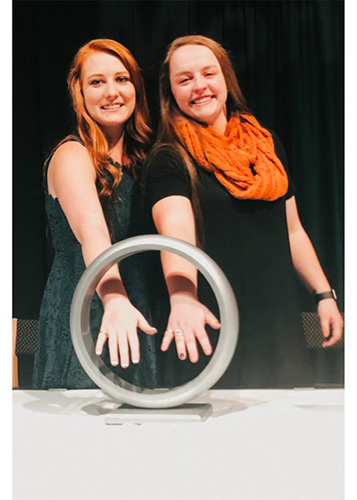 According to O'Neill, the best quality she can have as a mining engineer is "not taking sh*t from anybody." She then added, "Sorry for the swearing, but that's totally what it is." 
I asked her to elaborate. 
"If I wasn't out there giving [the miners] a hard time and BS'ing with them, I think that's when issues would start to arise." 
She exchanged a few more loving stories about the miners she works with – it's clear they're a second family to her. I then read her a few excerpts on Clark and Little. I asked her if there was ever a time when she felt empowered by other women in the industry. 
Without hesitation, O'Neill mentioned her classmate Johnniann Thompson '18. 
"We're constantly lifting each other up," she said. She stopped and wiped newly formed tears away. "It's comforting to know that there's somebody who is always going to understand. A lot of that has to do with us being the only two women in our class and going through that together. Now we're going through our careers together." 
O'Neill has found that same support from other women in the industry too. 
"When you find other women in the industry, you latch onto each other. We can't be tearing each other down. We have to be supportive of each other because we're all each other has. We're working toward the same goals, toward the same management positions with all these men. It's great to be surrounded by women who are so smart and supportive." 
I can't help but think that Clark and Little would be so proud of O'Neill.
Read stories of others featured in the Fall 2020 edition of MNews, Montana Tech's Alumni Magazine.
We hope you are enjoying Montana Technological University's Connections. If you have an idea of a story to highlight or person to feature, please contact spanisko@mtech.edu.