Electrical Engineering
Research & Graduate Studies
A Masters of Science in Electrical Engineering provides outstanding career opportunities. This includes research and advanced design. Montana Tech's program offers graduate courses and research projects in the area of electric energy and power, automation and control systems, signal processing, and instrumentation. Other areas of emphasis may be tailored your goals.
Montana Tech's Electrical Engineering faculty have an outstanding track record in attracting industry and government funded research projects. The projects provide students the opportunity to solve many challenging real-life engineering problems. Recent funded graduate research projects include:
Development of a battery diagnostic instrumentation system for NASA for next-generation hybrid and electric vehicles.  Several students worked closely with researchers from the Idaho National Laboratory.
Development of blade pitching control algorithms to improve the efficiency of wind turbines.  Many of the concepts are now used in industry.
Researching new control schemes for improving and performance and preventing blackouts in large power grids.  Students work closely with other universities, industry, and researchers from the Pacific Northwest National Laboratory.
Working with researchers at the Idaho National Laboratory, students are designing and implementing an instrumentation and control system for limewater remediation.
Both thesis and non-thesis options are available in Electrical Engineering. There are graduate fellowships, teaching assistantships, fee waivers, and research assistantships available. The advising faculty are happy to work with you personally to design a graduate program that works in your interest. All students pursuing a graduate degree in Electrical Engineering should have a bachelor's degree in an engineering or closely related field and, depending on the degree, may be required to take remedial coursework at their advisor's discretion.
The PDCI Damping Controller Proof-of-Concept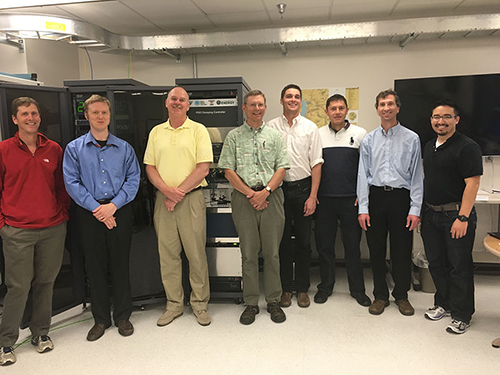 In the western North American electric power grid, the limiting factor in reliably transmitting energy across long-distance power lines is maintaining stability of the grid. Unstable grids can result cascading outages (or even blackouts). One mechanism of grid instability involves large uncontrolled power oscillations cascading throughout the system. Engineers term these "electromechanical oscillations." In 2012, Montana Tech Electrical Engineering Professor Dan Trudnowski, working with several research partners, advanced a concept for mitigating these oscillations thru automated damping control of a large DC transmission line in the western North American power grid. This line is termed the Pacific DC Intertie (PDCI) and is one of the largest and longest DC lines in the world, running from northern Oregon and southern California.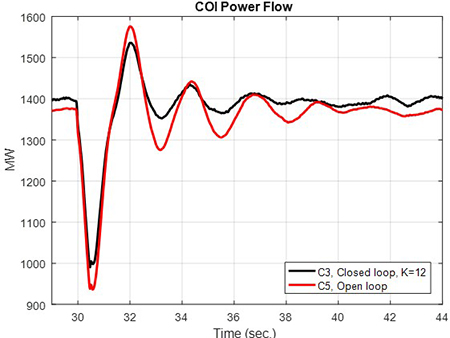 The original concept has resulted in a large research and demonstration project funded by Bonneville Power Administration and the USDOE Office of Electricity Delivery and Energy Reliability. The team is led by Dr. Trudnowski and Dr. Dave Schoenwald from Sandia National Lab. Several Tech faculty, graduate students, and researchers from Sandia have contributed to the project. In 2016, the research team installed a prototype first-of-its-kind damping controller on the PDCI. Initial tests have shown that the control system significantly stabilizes the entire western North American grid. Research and development continues to move this new technology to an operational status.