Graduate School
Thesis Abroad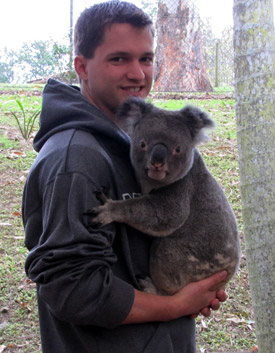 International experiences can be an extraordinarily enriching part of graduate study. The Montana Tech Thesis Abroad program encourages and assists graduate students with opportunities to conduct their theses or parts thereof abroad, providing them with the opportunity to augment their graduate research while obtaining cultural and academic experiences in a foreign host institution.
The Thesis Abroad program can provide funding up to $5,000 per student to assist with the additional expenses of travel and graduate study in a foreign country
For more information, please contact Victoria Pagan.
Program
The program provides one semester of financial support to Montana Tech graduate students participating in approved thesis research at collaborating foreign institutions. Students must be full time graduate students in good academic standing.
Typically applicants will be expected to have completed their first year of graduate study at Montana Tech. Students are required to participate in ongoing research projects at the host institution under the mentorship of an approved host faculty member. The student's Thesis Committee, their Department Head, and the Dean of The Graduate School must approve the research topic and the collaborating foreign institution in advance.
The program provides a stipend to cover up to one semester of living expenses and travel to the host institution. These costs will be reimbursed at the fixed maximum rate of $5,000/semester. The student must be registered at Montana Tech for six hours of thesis credit during their foreign exchange visit. The host institution will not charge tuition but may require the student to register at the host institution.
Apply
To apply, an interested student should coordinate with his/her committee and complete and submit the thesis-abroad application form. The typical duration would be up to one semester late in the student's degree program and after all or most coursework is complete.
Subject to approval of the student's committee, a longer visit can be accommodated, but the maximum award, regardless of duration, is $5,000. The cost would typically be shared 50/50 by the Graduate School and the student's department. No student would be eligible for more than one Thesis Abroad grant.
The student must be registered at Montana Tech for the study abroad term and must be in academic good standing to be eligible.