Automotive Technology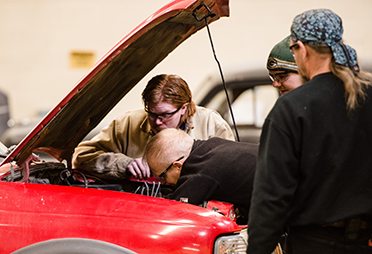 Automotive Technology offers you the training to be successful in today's fast pace, hands-on, problem-solving, and high-demand automotive field. Jobs are likely available wherever there are cars; meaning this degree and the accompanying skills are portable. Graduates of this program can be found serving in a number of positions at employers ranging from automotive dealerships, independent garages, industrial mines to the oil fields and utility companies.
During your automotive training here at Highlands you will have a personalized education from recognized industry professionals. Our instructors are always up to date with industry training that will allow our students to be ahead of most technicians currently in the field. Students will receive both one-on-one, and practical experience in a small class environment. In addition, training and service information are available to students on or off campus during your enrollment.
Highlands College focuses on using the state-of-the-art equipment that is found in today's top performing shops. Highlands College has industry partnerships that look to hire our students because of the in-depth education they receive here. Some of these partnerships are Pape Material handling, Butte Auto chain of dealers and DEE's Motors out of Anaconda. These employers and others have found great value in Highlands Automotive graduates.