Highlands College
Trades and Technical
Precision Machining Technology
Certificate of Applied Science (C.A.S.)
Precision Machining Technology teaches students both the science and art of machining. The Highlands Precision Machining Technology Certificate Program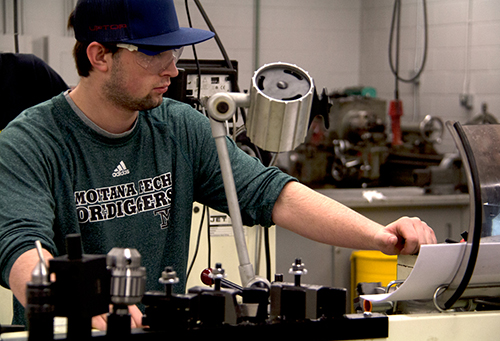 allows students to complete the required 41 credits in two semesters and enter the workforce with valuable college credential in the shortest time possible.
Students of the CAS in Precision Machining Technology will learn the skills needed to earn the Mastercam Certification and the National Institute for Metalworking Skills (NIMS) Certificate. These industry-specific certifications demonstrate to employers that students have a particular aptitude and breadth of knowledge in machining.
The CAS in Precision Machining Technology can also be combined with the CAS in Welding Technology, giving students an Associate of Applied Science Degree in Metals Fabrication.
Program Outcomes
The Precision Machine Technology program provides instruction in the theory and operation of mills and lathes, both manual and CNC, other tools related to the machinist trade, and associated programming.
Upon program completion, students will:
Apply quantitative skills in conjunction with trade handbook information to solve problems;
Effectively communicate during the problem solving process;
Use tools and equipment to form and machine various materials in a manufacturing laboratory environment;
Describe precision measurement and quality control procedures;
Use various precision measuring tools including a coordinate measuring machine;
Demonstrate advanced machining operations that are performed on CNC machines;
Produce advanced programs using Mastercam;
Demonstrate advanced techniques that are used on manual mills and lathes.
Careers
Machinists work in machinery and machine tool manufacturing, small arms manufacturing, and machine shops. Growth in the manufacturing industry and the need to replace an aging workforce is expected to provide opportunities for graduates.
In Montana, employment of CNC machinists is projected to increase by 44 percent between 2010 and 2020. Both state and national projected employment growth exceeds the rate of overall projected employment growth.
A precision machining technology certificate prepares graduates to work in:
Aerospace and computer companies
Job shops
Gun smiths
Tool and die making companies
CNC companies
Automotive repair shops
Mining companies
Tuition
Please visit the Highlands College admissions page for current tuition information.