Meet Brianne McClafferty '12
From playing on the court to practicing in one, this young lawyer is making Tech proud!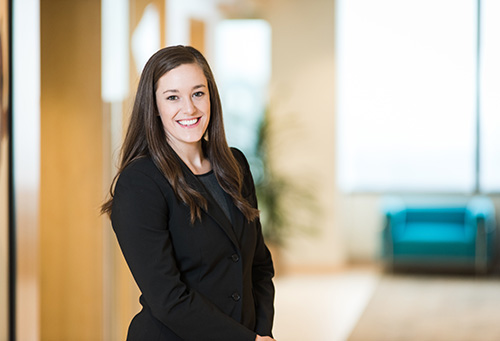 For Brianne McClafferty '12, Montana Tech was more than just a school.
"Tech feels like home," said McClafferty, who is now an associate attorney with Holland & Hart in Billings. "I defined who I was as a human being while I was there. Tech allowed for that growth in me."
While attending Tech, McClafferty was a Business and Information Technology major, but a night networking with attorneys at the annual Montana Tech Digger Athletic Auction opened up new possibilities for her. She decided to apply for law school, graduating from the University of Montana law school in 2015. Her undergraduate degree from Tech has helped her stand out in a competitive field.
"If I mention Tech, I have instant credibility," she said. Her firm focuses on helping clients in the natural resources industry, and her Montana Tech background has been useful for networking to build community in STEM industries.
She's also aware that her business degree is unique. Most other attorneys, she said, have political science backgrounds. Her classes at Tech helped her understand money and business operations.
"Law is a business. And many other degrees don't focus on money. As an associate at a big firm, I've been involved in making decisions because of my business background."
One class she took at Tech that left an impact on her was the Senior Capstone that taught strategic management. The class was taught by multiple business professors and gave her the opportunity to run a fake company in a simulated market.
She also credits her time in athletics to her success.
"Discipline is the most important trait for my success in law," she said. "Being a student athlete taught me discipline."
McClafferty took a unique path after graduating from Tech, but her advice for current students is universal.
"Take advantage of being in a place where your peers are excited to learn and your professors want you to succeed.
We are always on the lookout for stories to share with our Oredigger community, if you know of a person or story to be featured please email spanisko@mtech.edu.