Staff Senate
Senators
Mike Haldane
Mike Haldane started working at Montana Tech in February of 2020 as the Career Fair & On-Campus Interview Coordinator in Career Services. Mike enjoys connecting employers with the students and alumni of Montana Tech, and doing all he can to enhance the student experience at Montana Tech. Becoming part of the Staff Senate seemed like a great way for Mike to connect more with the Montana Tech family, so he jumped at the opportunity! As a member of the Staff Senate, Mike hopes to have a positive impact on both the north and south campuses, and to help make Montana Tech a better place to work.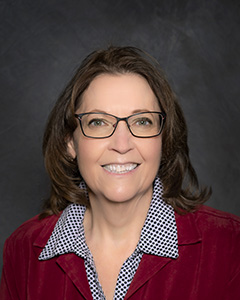 Marcia Lubick - Treasurer
Marcia Lubick earned her BS in Business & Information Technology, graduating with honors from Montana Tech in December 2002 while working 40 hours a week at the Montana Tech Library
She loves her job and enjoys helping students, faculty and staff with whatever they need from the library.  From experience, Marcia understands that juggling what's important in our lives including family, academics and work can be stressful which makes it so very important to make customer experiences in the Library positive and productive.   Marcia tries to go the extra mile every day to help our students. 
Service to the community is also important to Marcia and she enjoys working with the other Staff Senate members to make this campus an even better place to work.
Debbie Luft
Debbie has been working at Montana Tech since May of 2005 after earning her second Bachelor's degree from Montana Tech in Biological Sciences. For the first three years she worked as a full time research assistant for Tech professors Don and Andrea Stierle performing many of the bioassays for the lab as well as maintaining the lab's numerous microbial cultures. Then in May of 2008 she began working as an academic recruiter for Montana Tech. During that time, she has worked with all groups of students, but most recently she works with transfer students to assist them in their admissions process and works other college campuses to create new transfer articulation agreements and pathways. As a Staff Senator she hopes to help the campus realize the important role staff plays in creating a positive student experience and the students' overall perceptions about Montana Tech. As a Staff Senator she also looks forward to finding ways to help make sure the staff feels appreciated for their efforts and welcomes input from any staff members. staff members.
Nathan McQuinn
Nathan McQuinn began working at Montana Tech in the summer of 2020. In his role as Assistant Director Residence Life, he enjoys helping students find connections to Montana Tech and get engaged outside of the classroom. He is responsible for overseeing the programming and student staffing within the residence halls. His favorite part about his job is helping students grow and solving problems.
Kinsley Rafish, President
Kinsley Rafish has worked in Enrollment Services for the past two years and recently accepted a new position in the Institute for Educational Opportunities (IEO) as the Public Education Coordinator. Kinsley is an outgoing individual who enjoys working with faculty, staff and students. She joined Staff Senate in 2019 and as an active member hopes to bring new ideas to the table, build a sense of community, and provide a positive and productive working environment. Kinsley enjoys working at MT Tech and is excited to see what the future holds.
Sean Ryan, Vice President
Sean Ryan is a two-time graduate of Montana Tech earning a BS in Professional & Technical Communication in 2016 and receiving his MS in Technical Communication in 2019. Entering his second season as the Oredigger Men's & Women's Golf Coach, Sean also works on campus in the Montana Tech Athletic Department as the Assistant HPER Director/Pool & Recreation Manager. He is in charge of season ticketing for Montana Tech sporting events and assists with the Digger Athletic Association's fundraising events. Sean loves the fast-paced and ever-changing nature of his job and the ability to build relationships with students, faculty, staff, administration, alumni, and the community.
Jenna Snow
Jenna Snow will celebrate her first anniversary with the Financial Aid department at Montana Tech this July. Jenna works with student employment and loves her newfound career in financial aid. She enjoys helping others while always wearing a smile on her face. With her husband working on campus and her stepson attending, Montana Tech is about family to Jenna. She joined Staff Senate in hopes to be a friendly face staff know they can count on and to build upon a positive working environment where staff feel appreciated and know they have a team supporting them.
Kathy Stevens
Kathy Stevens started working full-time as Distance Learning Coordinator at Montana Tech in September 2008. This newly created position provided an additional way to support distance learning here at Montana Tech. Kathy can be seen running around the campus providing support for technology in the classroom, making video connections, setting up web conferencing and recording capabilities, and helping with anything in the online environment. Along with improving distance learning and teaching, Kathy has a passion to help Montana Tech achieve its high standards for quality education and accessibility for all.
Jeremiah Strand
Jeremiah Strand is a 2016 Montana Tech Business and Information Technology graduate, who has worked in the Montana Tech Enrollment Office since April 2019. His position lets him assist students with their transcripts and transfer evaluations, among other things. While he enjoys assisting students with their general and individual needs, he is very much looking forward to getting more involved in the University community. Jeremiah is excited to work with the Staff Senate to make the campus a better place.
Casey Vanatta
Casey Vanatta has been working at Montana Tech in the Information Technology Services department since October of 2004. She serves as Supervisor to Montana Tech's Help Desk and is the campus Information Systems Analyst. Casey enjoys her job at Montana Tech and those she gets to work with on a daily basis.
Casandra Welsh
Casandra Welsh began her employment at Montana Tech, in 2018, working in Enrollment Services. In her current role as Budget Analyst for the Montana Bureau of Mines and Geology, Casandra analyzes the MBMG budgets, processes transactions pertaining to accounts payable and assists fellow Bureau members and vendors with questions or concerns. Casandra looks forward to collaborating with other Staff Senate members to promote a positive work environment through effective communication, encouragement, recognition, cooperation and inclusion. "Let's root for each other and watch each grow!"